Cycling and mountain biking in Zillertal
Hop onto your saddle and pedal away! The Zillertal biking region offers you an infinite variety of fantastic tours with a first-class Alpine panorama across 1,200 kilometres of bike trails. When biking in Zillertal, you can decide on the right challenge for you. For bikers who want to take it easy, we recommend exploring the level valley floor with its charming villages and picturesque meadows. And right next to our hotel in Mayrhofen, you'll find Penkenbahn cable car, which will quickly and easily transport you and your bike up to the varied bike routes on Penken. More experienced, ambitious biking fans can look forward to challenging routes, high-speed single trails, and demanding racing bike tours over steep Alpine passes and through thick forests up to rustic pastures and majestic mountain peaks.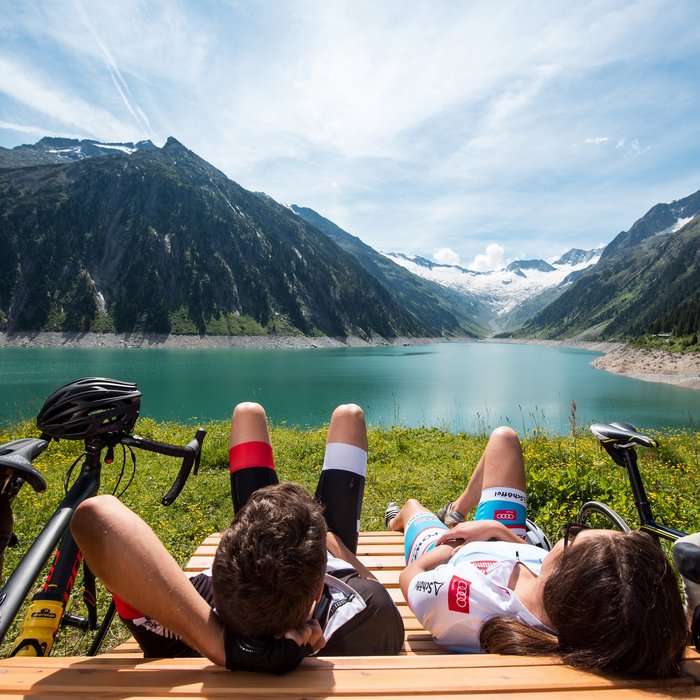 What's included when biking in Zillertal?
Healthy sports breakfast for an active start to your day
Bike technique training to keep you even safer
Our bicycle, mountain bike, and e-bike hire in Mayrhofen
Bike depot at the hotel and outdoor bike racks
Marked wash station with water hose and brushes
Laundry service with drying for sports clothing
Bike care package (pump, tyre repair kit, lubricants, etc.)
Info corner with maps and informational material, route descriptions, weather reports, etc.
Tips and tricks from your hosts for cycling and mountain bike tours in and around Mayrhofen
Flexible pedalling fun through the Alps
If you love nothing more than sitting in the saddle and pedalling to your heart's content, then Tyrol mountain bike safari is a true paradise. The longest consecutive mountain bike circuit in the Alps runs over 1,000 kilometres through Tyrol's mountain landscape, from Nauders in the Tyrolean Oberland to Walchsee in Unterland. Steep ascents and extremes of endurance? You won't find that here. You can conquer half of the 32,000 metres of elevation in perfect comfort with one of over 20 cable cars. If you don't have the time to spend several days biking in Zillertal or would like to plan a short bike tour during your hiking holiday in Zillertal, simply choose one of the 32 stages and explore a small section of the breathtakingly beautiful route
Zillertal valley cycle path
Zillertal valley cycle path offers great fun for leisure cyclists of all ages. Fantastically developed and generously wide, the trail winds over 31 kilometres from Strass to Mayrhofen. The minimal altitude difference between the two locations makes the route perfect for biking beginners or families with children, who can enjoy a leisurely, safe ride in the sunshine. On the way, you'll discover plenty of destinations that invite you to stop off and explore. Sometimes it might be playgrounds where your children can let off steam, other times you'll discover open-air swimming pools or an adventure park. And if one of these breaks lasts a bit longer than expected or tired legs just can't keep pedalling, there's always the option to hop on the train with your bike at one of the Zillertalbahn railway stations and continue your journey in comfort.