Walking your way through a winter fairy tale
Making tracks in the new snow, crunching through the freshly fallen flakes, and breathing in the refreshing winter air – what could be better? "Amazing" is often the first word that guests at Sport & Spa Hotel Strass breathe out after spending a moment standing speechless in awe. And after that, they just can't stop gushing with praise. And who can blame them, with the unbelievable variety of winter hikes that Zillertal has to offer? Over 460 kilometres of breathtakingly beautiful, wide winter hiking trails weave their way through our sun-kissed valley, leading you to the most stunning locations in the area. Level and leisurely or steep and challenging – that's something you can decide for yourself every day.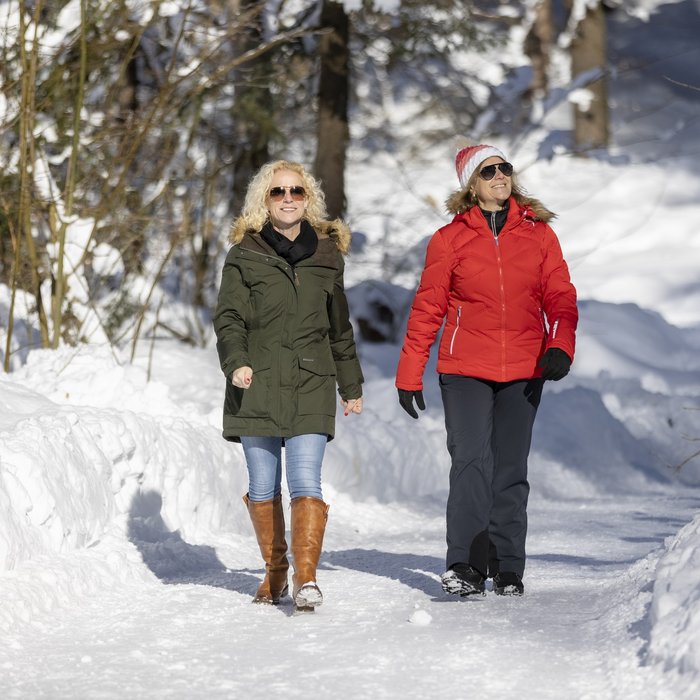 Snowshoeing on your winter holiday in Zillertal
Strap on your snowshoes, explore the most secluded Alpine pastures and remotest summits in Zillertal, and soak up the tranquillity in this unique Tyrolean mountain world. Breathe in the crisp air and let your gaze wander over the sparkling white landscape of Zillertal. For beginners, we recommend a leisurely tour at low altitudes or a guided snowshoe hike. Our reception will be happy to give you more information.